Civil Litigation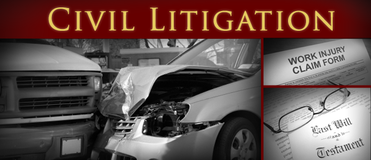 Civil Litigation is sometimes viewed as a final alternative used in an effort to protect a client's rights. However, litigation can be costly, time consuming and often stressful. At the law office of Richard Odeleye, Barrister, Solicitor and Notary Public, each client is provided with personalized attention in order to find an effective and fair solution.

Civil Litigation is a lawsuit between two or more people or entities that does not seek criminal sanctions. It is distinguishable from Criminal Litigation. The remedy sought in Civil Litigation is usually money or a judgment that requires one party to do something or to stop doing something.

Civil Litigation encompasses many different kinds of cases, such as landlord/tenant cases, accident cases, breach of contract cases, discrimination cases, business disputes, medical malpractice, malicious prosecution, Infliction of Mental Suffering, trespass, negligence, abuse of power by government agencies (misfeasance in public office) etc.

Our goal is to achieve a desirable result as quickly as possible. When a satisfactory result cannot be reached through negotiation, vigorous and aggressive litigation may be the only answer. Our representation is available in federal and state courts, arbitration and mediation.

We have successfully represented clients in many civil litigation cases and have achieved reasonable settlements and or won cases on behalf of our clients.


---